Gary Bigeni
Challenge is something that Gary learned to face from an early age. He was born with hearing loss and wore hearing aids from the age of three. When he was a child, his hearing loss embarrassed him. He was teased by other children. But as he grew up, he realised that his hearing aid was a gift, not a hindrance. It enabled him to engage with the world and become who he wanted to be. That was vitally important to this Queer man from the western suburbs of Sydney with an ethnic background. Gary wears his difference as a source of pride. It is his trademark and his drawcard. He believes that every young person should understand the power of the motto, 'Don't let anything get in your way.'
Even as a young Maltese boy living in Sydney with his three siblings and mother, creativity was always present for Gary Bigeni. As a child, he would sneak into his mother's wardrobe and cut large circles out of the bottom of her dresses so he could create collections for his Barbies and GI Joes. Years later, following fashion design training at East Sydney Tech Gary Bigeni launched his eponymous label and secured himself as part of the Australian fashion cohort. With multiple fashion week shows, presentations, artist collaborations, and celebrity muses Bigeni built a reputation for masterful drape, intelligent silhouettes, and artful use of colour. Over time Gary Bigeni's collections have evolved and brought his tribe of followers with him. Whilst still created on a foundation of masterful fabric manipulation and soft tailoring his once quiet palette now exudes the vibrance and joy of his own style and personality.
'Being a Champion for Loud Shirt Day is something that I hold close to my heart and is an opportunity for me to continue to inspire and raise awareness for people with hearing loss. I know the struggles young children have with wanting to fit in and feel normal amongst their peers. With Loud Shirt Day we have the opportunity to celebrate who we are, love who we are, and embrace our hearing loss. I want people with hearing loss to know that they should never let anything get in their way of achieving their goals and to love themselves regardless.'
The Russo Family
Sisters Isabella and Sienna share a common bond. Both girls love basketball and they both wear hearing aids.
The girls have been playing basketball with their local club and, prior to the disrupted seasons due to Covid, have enjoyed some success and made some great friends. One of Isabella's stand-out achievements was winning the 'most determined player' medal in a Grand Final.
Their hearing loss has not deterred them from their dreams. Isabella wants to one day be part of the Australian Basketball Team and Sienna is eager to run her own café when she's older.
In the classroom, they use the Roger and surround sound system to help with background noise. They also use the Roger when playing basketball games. A Roger is a device worn by a speaker. It picks up the speaker's voice and transmits it to receivers connected to a hearing device. Speech can be heard better over distance and in noisy situations.
Sienna shares her experience, 'Living with a hearing loss is fun. I really like when people use the Roger to send me secret messages. I feel like I am a super-spy.' Isabella's new hearing aids allow her to stream directly to them via Bluetooth; perfect for a near teenager ignoring her parents!
Both were diagnosed at three months of age with hearing loss, they have accessed the services of NextSense since their diagnosis. Through early intervention, support services and speech therapy, NextSense has helped Isabella and Sienna break down the barriers associated with their hearing loss and focus on their goals.
Loud Shirt Day is an important celebration for Isabella and Sienna—they love raising awareness and educating others about hearing loss and hearing devices. Every year they pop on their loud shirts and encourage their community to get involved. Their friends, family, school, and basketball community all band together to celebrate and help raise awareness and funds for children with hearing loss. Last year their community raised over $3,000 for the cause.
You too can help by getting involved and registering for Loud Shirt Day. Help celebrate the achievements of children with hearing loss, raise awareness and vital funds to make an impact on the lives of children just like Isabella and Sienna.
Yiana Pandelis
Diagnosed with hearing loss at the age of two, Yiana wears hearing aids to help her hear and received early intervention and support services from NextSense (previously EEP in Brighton) to help reach her goals. 'As a child I loved having fun and changing the colours of my hearing aid moulds.'
Yiana faced challenges like having to work extra hard to listen as she grew up but these same challenges only made her strive to be the best version of herself.
At times Yiana found being a deaf person in a hearing world isolating, however at a young age she discovered she wasn't alone and realised that everyone faces their own unique challenges. When Yiana started acting at twelve it helped boost her confidence and it was then that she discovered her dream of being an actor.
'I realised that my challenges of being deaf were actually a gift. Because of my hearing loss, I am incredibly observant—this skill is now a joy to use every day in my art.'
Yiana wants to be a positive role model to other children with hearing loss and their families. She wants them to know that 'hearing loss does not hinder any dream. In fact, having any disability is an opportunity to be grateful for what you have. I knew that my hearing loss made me a better person. At times it may be challenging to communicate in a crowd or listen to the radio, or even scary when you need to make or answer a phone call. We all have obstacles in life, it's these obstacles that make you stronger.'
Being a Loud Shirt Day Champion is important to Yiana because she can share her story and connect with others through their stories.
Loud Shirt Day is a cool, fun day where people who are deaf or hard of hearing can get together and celebrate their achievements. Having your partner, family and friends join in on the celebrations makes it a perfect day to raise awareness, share your journey and rally for the cause.'
Yiana is helping people who are deaf or hard of hearing learn to reach their full potential, and says 'nobody knows your disability more than yourself. Don't let anyone tell you the narrative of who they think you are or who you should be. Always trust yourself! Ask politely for someone to repeat themselves if you didn't hear. Don't be ashamed of your hearing loss. It's who you are. And most importantly be present and if someone doesn't understand you, it doesn't matter. Know your worth and know you're deserving of anything you want in life.'
Yiana is hoping to get LOUD by driving in a colourful Volkswagen van on Loud Shirt Day!
It's so easy to get involved with Loud Shirt Day.
Register, update your page with why you've decided to get LOUD, and share your page with your family and friends! Share on all your social platforms! Use word of mouth, social media, a fun video on TikTok, or even LinkedIn. Print some posters and have a great day getting LOUD.'Thanks for getting LOUD Maplesden Family. We can't wait to see all your homemade crafts this year.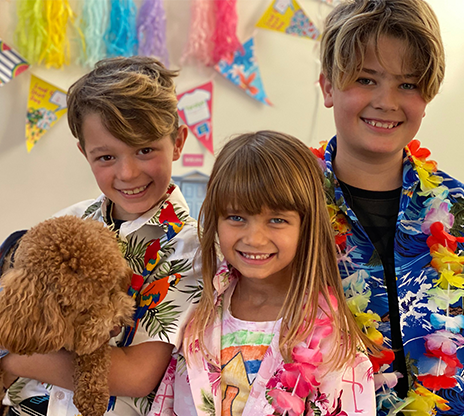 Natalija and the Mladenovic Family
When you ask Natalija what she wants to be when she grows up she'll tell you 'I want to be an astronaut.'
NextSense has helped redefine what's possible for Natalija - she speaks and hears just like her hearing peers, attends a mainstream primary school with her brothers, and loves it!
Natalija has profound hearing loss and wears cochlear implants to help her hear and speak. Her hearing loss doesn't limit her achievements or define her. She plays in a basketball team, a soccer team and is also learning to play the drums. She's a superstar already reaching for the stars!
Please join us by getting LOUD for Loud Shirt Day, so together we can continue to enhance the lives of children with hearing loss just like Natalija and enable them all to reach for the stars!
Johnstaff
As part of our social awareness and responsibility, we look to support several initiatives that are important to our staff. Loud Shirt Day is one of those that our staff really have some fun with.
In 2020, due to the lockdowns, we held a virtual get together over Zoom. We all wore our loudest shirts and my daughters, who have hearing loss, prepared a hearing themed quiz for us, replacing our usual general afternoon quiz.
Pre-COVID times we organised a shared lunch where staff brought food to share that matched the colour of their shirt! Food always works at getting the team together.
This year we are still planning to get LOUD for Loud Shirt Day. How we get loud will depend on the restrictions and whether our office is open, so the final format is yet to be determined.
Loud Shirt Day is a fun and informative day for our staff, it's a day to wear your wacky shirt and remember that we're all different. The leaders of our workplace embrace the day and staff feels that they can dress very differently in a professional office environment from what they typically would all while raising awareness and fostering inclusivity for people with hearing loss.
"Children with hearing loss are no different to any other kids" - David, Principal, Victoria Johnstaff